Offbeat activities to do in Chikmagalur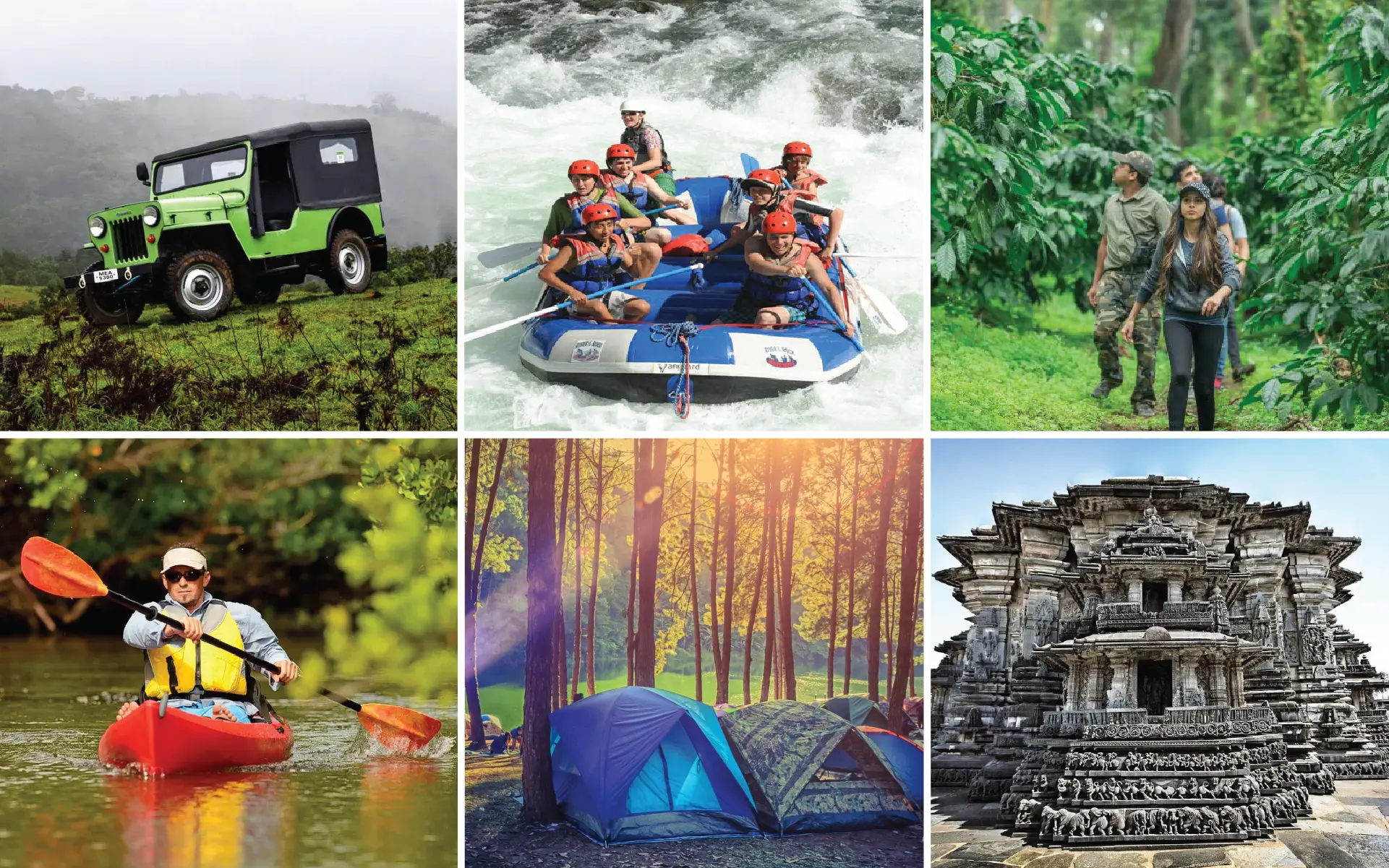 Offbeat activities to do in Chikmagalur
Chikmagalur offers popular attractions like Mullayanagiri Peak and Bababudangiri Range, but did you know that there are plenty of offbeat activities that unveil the region's hidden charms?
So, if you are seeking unique experiences beyond the usual tourist trail, here are some offbeat activities to do in Chikmagalur.
Here are a few suggestions from thrilling water sports to serene nature walks, that have something to satisfy everyone
1. Hire a Jeep for Off-Roading: Experience the thrill of off-roading by hiring a Jeep and exploring the rugged terrains around Chikmagalur. Drive through the challenging trails, enjoy the scenic views, and capture memorable photographs.
2. Rafting: The adrenaline rush of rafting awaits you in Chikmagalur, where the Bhadra River flows with vigour. As you navigate through the gushing rapids, surrounded by lush greenery, you will feel a surge of excitement and a connection with nature like never before.
3. Coffee Plantation Walk: Chikmagalur is renowned for its sprawling coffee plantations that produce some of the finest coffee in India. Embark on a stroll through these aromatic plantations and witness the entire process, from coffee beans growing on the trees to the harvesting and processing techniques. Engage with the local farmers, learn about the art of coffee brewing, and savour the rich flavours of freshly brewed coffee during this immersive experience.
4. Nature Walk: Immerse yourself in the pristine beauty of Chikmagalur with a nature walk through its verdant forests and scenic trails. As you tread softly amidst the lush greenery, accompanied by the sweet melodies of chirping birds, you will discover hidden waterfalls and exotic flora, and perhaps even spot some wildlife. The nature walk offers a perfect opportunity to rejuvenate your mind, body, and soul while embracing nature's beauty.
5. Kayaking: The tranquil lakes and reservoirs of Chikmagalur beckon water enthusiasts to indulge in the thrilling sport of kayaking. Glide through the crystal-clear waters, surrounded by breathtaking landscapes, and soak in the serenity of the surroundings.
6. Camping: Escape the hustle and bustle of city life by camping amidst the serene environs of Chikmagalur. Set up your tents amidst the lush green meadows or on the banks of tranquil lakes, and let the beauty of nature envelop you. Spend your days exploring the nearby trails, indulging in bird watching, or simply relaxing in the lap of nature. The starlit skies at night and the soothing sounds of nature will create memories that last a lifetime.
7. Barbecue & Picnic: Gather around a crackling bonfire, prepare delicious grilled delicacies, and enjoy a hearty meal amidst nature's embrace. The idyllic surroundings create the perfect ambiance for a memorable outdoor dining experience with family and friends.
Takeaway:
Whether you seek adventure, peace, or a blend of both, this enchanting destination will leave you with cherished memories and a longing to return for more.
So, pack your bags, venture into the offbeat, and let Chikmagalur mesmerize you with its wonders. Contact our team At Shanthi Kunnj to assist you with your offbeat adventures.