History
From An Estate to A Resort: A Story of Hospitality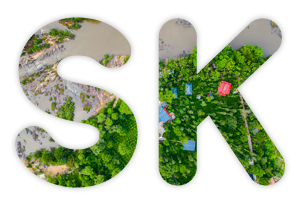 Shanthi Kunnj is situated in the gorgeous hill station of Chikmagalur in the South Indian state of Karnataka. The area surrounding the homestay is known as Masigadde, which translates to 'coal field' in the local language.
Apparently, during British rule in India, this area was used to produce charcoal for the steam locomotives used to carry goods. For this purpose, the forest area in this land was burnt down by the British.
Then how did this land turn out to be the unparalleled charm called Shanthi Kunnj today?
The Holy Cross Estate
In 1979, our honorable founder late Mr. Anthony Saldanha, established a coffee estate known as the Holy Cross Estate at this place.
Though a completely barren land with little hope of life again, an undeterred late Mr. Anthony Saldanha worked tirelessly to transform the land into the mesmerizing area we see today.
As a devoted coffee grower, he transformed the landscape by adding thriving coffee plantations to the area, creating a scenic charm and picturesque ambiance that flourished in the 1980s.
Today, the land is rich not just in Robusta coffee but also in priceless commodities such as black pepper, cardamom, areca, vanilla, and more.
Boutique Bliss by the River!
After transforming the land into a heavenly location, Mr. Saldanha and his wife treated the area with utmost care and were excellent hosts to guests and travellers.
That was how the notion of a homestay came up, and in 2010, Shanthi Kunnj was born.
While currently, the resort is taken care of by a professional team, it is through the principles of hospitality and dedication of our founder that we continue to stride.